A list of new content, items, and more in Final Fantasy XIV Patch 6.51.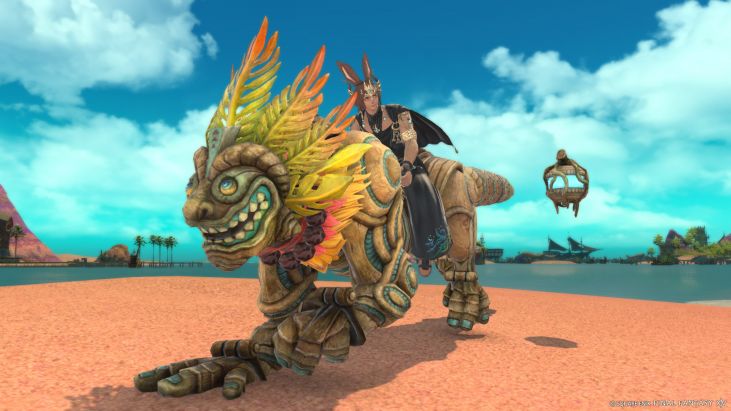 Contents

[]
6.5 Patch Notes and Special Site
Please visit the official Patch 6.51 Notes at the Lodestone for full details about Patch 6.51, and visit the Patch 6.5—Growing Light Special Site for more information.
Splendorous Tools Story Conclusion
If you have completed the previous Splendorous Tools steps, talk to Grenoldt at The Crystarium (X:10.5 Y:7.7) to continue the Splendorous Tools quest line.
New Variant Dungeon: Aloalo Island
If you have completed the quest "A Satrap's Duty" and you have spoken to Osmon at Old Sharlayan (X:11.9 Y:13.3), you can talk to Shallow Moor at Old Sharlayan (X:12.0 Y:13.3) to begin the quest "Stranger from Paradise". This will unlock the new variant dungeon, Aloalo Island.
New Gold Saucer Attraction: Blunderville
Through Sunday, December 31, 2023 at 6:59 a.m. (PST), you can participate in the limited time Fall Guys collaboration attraction at the Gold Saucer. Talk to Lewena at The Gold Saucer (X:4.8 Y:6.1) to unlock it. After you unlock it, you can talk to Wy (X:6.1 Y:7.4) or the Blunderville attendant (X:5.9 Y:6.3) to enter Blunderville Square and participate in a show. You will be awarded MGF, which can be exchanged for rewards at the MGF Trader.
New in PvP
PvP Season 8 will end and PvP Season 9 has begun. Various changes and improvements have been made.
New Mounts, Minions, Orchestrion Rolls, and More
See below for the list of new mounts, minions, orchestrion rolls, and other items that have been added in Patch 6.51.
New Mounts
| Item | Source |
| --- | --- |
| Rhiyes | Fall Guys Gold Saucer Attraction MGF Exchange |
| | Aloalo Coin Exchange (Another Aloalo Island) |
| | Unlock all Aloalo Island conservation records |
New Minions
| Item | Source |
| --- | --- |
| Pegwin | Fall Guys Gold Saucer Attraction MGF Exchange |
| Pink Bean | Fall Guys Gold Saucer Attraction MGF Exchange |
| | Aloalo Island |
| | Aloalo Island |
New Fashion Accessories
| Item | Source |
| --- | --- |
| | Aloalo Potsherd Exchange |
New Orchestrion Rolls
| Item | Source |
| --- | --- |
| Everybody Falls (Fall Guys Theme) | Fall Guys Gold Saucer Attraction MGF Exchange |
| O Hunter, Rejoice | Aloalo Coin Exchange (Another Aloalo Island) |
| O Speaker, Slumber | Aloalo Potsherd Exchange |
New Triple Triad Cards
| Item | Source |
| --- | --- |
| | Aloalo Island |
| | Aloalo Island |
| | Aloalo Island |
| | Aloalo Island |
New Hairstyles
| Item | Source |
| --- | --- |
| The Bold and the Braid | Aloalo Potsherd Exchange |
New Emotes
| Item | Source |
| --- | --- |
| /humbletriumph | Aloalo Potsherd Exchange |
| /victoryreveal | Fall Guys Gold Saucer Attraction MGF Exchange |
New Glamour Gear
| Item | Source |
| --- | --- |
| Gentlebean Set & Winner's Crowns | Fall Guys Gold Saucer Attraction MGF Exchange |
| Free Spirit Set | Aloalo Potsherd Exchange |
New Furnishings
Item
Source
Aloalo Faerie Cushion
Aloalo Island
Aloalo Island Palm
Aloalo Island
Aloalo Pendant Wall Lamp
Aloalo Island
Aloalo Roselle Hedge
Aloalo Island

Advertisement · Continue Reading Below

Blunderville Crown
Fall Guys Gold Saucer Attraction MGF Exchange
Blunderville Donut Bumper
Fall Guys Gold Saucer Attraction MGF Exchange
Blunderville Flag
Fall Guys Gold Saucer Attraction MGF Exchange
Blunderville Hammer
Fall Guys Gold Saucer Attraction MGF Exchange
Blunderville Padded Wall
Fall Guys Gold Saucer Attraction MGF Exchange
Blunderville Rainbow
Fall Guys Gold Saucer Attraction MGF Exchange
Forgotten Figure
Aloalo Manuscript Exchange (Another Aloalo Island (Savage))
Sagely Sparrow Statue
Aloalo Island
South Seas Coelacanth Display
Aloalo Island
New Portrait Accents
| Item | Source |
| --- | --- |
| Aloalo Island Framer's Kit | Aloalo Coin Exchange (Another Aloalo Island) |
| Blunder-villed Framer's Kit | Fall Guys Gold Saucer Attraction MGF Exchange |
| Blunderful Framer's Kit | Fall Guys Gold Saucer Attraction MGF Exchange |
| Blunderous Framer's Kit | Fall Guys Gold Saucer Attraction MGF Exchange |