This page lists the new features, items, and content in Endwalker Patch 6.4, released on May 23, 2023.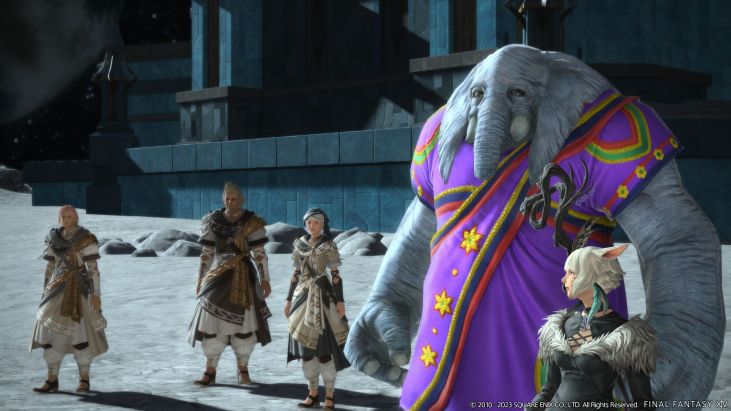 Contents

[]
6.4 Patch Notes
Please visit the official Patch 6.4 Notes at The Lodestone for full details.
List of New Additions in Patch 6.4
New Main Scenario Quests
Nine new Endwalker Main Scenario Quests have been added. Talk to Varshahn at Radz-at-Han (X:4.4 Y:9.8) to start the first new quest: "Currying Flavor". The new main scenario quests feature the following new duties:
New dungeon: The Aetherfont
New trial: The Voidcast Dais
New Raid Dungeon: Pandaemonium: Anabaseios
The Pandaemonium raid dungeon series concludes with Pandaemonium: Anabaseios. Talk to Ruissenaud at Labyrinthos (X:8.6 Y:27.5) to start the quest "Eater of Souls" to unlock it. It requires the completion of Pandaemonium: Aporia.
New Side Story Quests: Tataru's Grand Endeavor
The Tataru's Grand Endeavor side story quests continue with "Aggressive Expansion". This requires the completion of the "Sorrows of Werlyt" side story quests. Talk to Mehdjina at Old Sharlayan (X:11.8 Y:9.8) to begin the quest.
New Currency, Discontinuation of Old Currency
A new currency, Augmented Tomestones of Comedy, has been added. Augmented Tomestones of Astronomy have been discontinued. You can talk to Auriana in Mor Dhona to convert them into Augmented Tomestones of Causality.
Island Sanctuary Updates
You can begin a new Island Sanctuary quest, "An Ideal Marriage", by talking to the Curious Courier at Unnamed Island (X:12.4 Y:28.7). The new maximum rank for Island Sanctuary is 16. Overall, patch 6.4 features many new additions and improvements to Island Sanctuary.
PvP Updates
Crystalline Conflict Season Six will end and Season Seven will begin.
New Faux Hollows Trial: Zurvan
The new Unreal trial is Containment Bay Z1T9 (Unreal), where you battle Zurvan.
Faerie Glamours
Talk to Thubyrgeim at Limsa Lominsa Lower Decks (X:4.7 Y:11.4) to start the quest "A Faerie Tale Come True", to unlock faerie glamours.
New Mounts, Minions, Orchestrion Rolls, and More
See below for the list of new mounts, minions, orchestrion rolls, and other items that have been added in Patch 6.4.
Item
Source
Botanist's Work Table
Crafted
Imitation Moonlit Window
Crafted
Metal Pipe Wall Shelf
Crafted
Floating Kitchen Cabinet
Crafted

Advertisement · Continue Reading Below

Ivy Pendant Wall Light
Crafted
Crystarium Pendant Wall Light
Crafted
Verdant Pillar
Housing Merchants in residential areas, Apartment Merchants
Rattan Partition
Crafted
Imitation Closed Door
Crafted
Wall-mounted Pot Rack
Crafted
Serving Barrel
Crafted
Country Swing Seat
Crafted
Well Pump
Crafted
Ivy-canopied Deck
Crafted
Advertisement · Continue Reading Below
New housing exterior items
| Item | Source |
| --- | --- |
| Island Garden Fence | Purchase from Island Sanctuary vendor |
| Island Parasol Table | Purchase from Island Sanctuary vendor |
| Island Wooden Chair | Purchase from Island Sanctuary vendor |
| Garden Creek | Purchase from Island Sanctuary vendor |
| Mushroom Medley Lamp | Purchase from Island Sanctuary vendor |
New furnishings
Item
Source
Watcher's Palace Interior Wall, Flooring, Ceiling Lamp
Crafted
Imitation Curtained Window
Crafted
Botanical Candle Display
Crafted
Cieldalaes Planter
Crafted

Advertisement · Continue Reading Below

Classical Table Lamp
Crafted
Chair Hena
Purchase from Omicron Gemstone Vendor
Steamed Shumai
Crafted
Fried Gyoza
Crafted
Azure Sky Phasmascape
Housing Merchants in residential areas, Apartment Merchants
Starry Sky Phasmascape
Housing Merchants in residential areas, Apartment Merchants
Freestanding Rattan Hammock
Crafted
Classic Tableware
Classic Umbrella Stand
Crafted
Rustic Log Table
Crafted
Rustic Log Bench
Crafted
Scattered Tomes
Housing Merchants in residential areas, Apartment Merchants
Vintage Side Table
Crafted
Short Pillar Bookshelf
Crafted
Fishing Rod Rack
White Gatherer Scrip Exchange
Raw Log Half Partition
Forever at Your Side
Quest Reward: Tataru's Grand Endeavor
Drowned King Sculpture
Crafted with material from Lapis Manalis
Eventide Sword Stand
Crafted with material from The Voidcast Dais (Extreme)
Railway Sleepers
Housing Merchants
Authentic Copy of Newfound Adventure
Purchase from FFXIV Online Store
Authentic Copy of Buried Memory
Purchase from FFXIV Online Store
Authentic Copy of Gods Revel, Lands Tremble
Purchase from FFXIV Online Store
Authentic Copy of Dark Throne
Purchase from FFXIV Online Store
Loss, Fire, Faith Reproduction
Purchase from FFXIV Online Store
Advertisement · Continue Reading Below
New orchestrion rolls
Item
Source
My Soul to Keep
Purchase from achievement vendor Jonathas in Gridania
Meteor
Purchase from achievement vendor Jonathas in Gridania
Tranquility
Purchase from vendor in Adventurer's Guilds in Limsa Lominsa, Ul'dah, Gridania
Skullduggery
Purchase from vendor in Adventurer's Guilds in Limsa Lominsa, Ul'dah, Gridania

Advertisement · Continue Reading Below

Damnation
Purchase from vendor in Adventurer's Guilds in Limsa Lominsa, Ul'dah, Gridania
Machinations
Purchase from vendor in Adventurer's Guilds in Limsa Lominsa, Ul'dah, Gridania
Kiss of Chaos
Purchase from vendor in Adventurer's Guilds in Limsa Lominsa, Ul'dah, Gridania
Return of the Hero
Purchase from vendor in Adventurer's Guilds in Limsa Lominsa, Ul'dah, Gridania
Conundrum
Purchase from vendor in Adventurer's Guilds in Limsa Lominsa, Ul'dah, Gridania
Fracture
Purchase from vendor in Adventurer's Guilds in Limsa Lominsa, Ul'dah, Gridania
Voidcast Savior
Crafted with material from The Voidcast Dais (Extreme)
Potential reward from Anabaseios: The Twelfth Circle (Savage)
Potential reward from Anabaseios: The Twelfth Circle
Fleeting Moment
Potential reward from Anabaseios: The Eleventh Circle
One Amongst the Weary
Potential reward from Anabaseios: The Ninth Circle and Anabaseios: The Tenth Circle
Subterranean Sanctuary
Purchase from Island Sanctuary vendor
Another Moon
Potential reward from The Voidcast Dais
Starsbreath
Potential reward from The Aetherfont dungeon
A Long Fall (Pulse)
Purchase from FFXIV Online Store
I Am the Sea (Pulse)
Purchase from FFXIV Online Store
Beauty's Wicked Wiles (Pulse)
Purchase from FFXIV Online Store
Equilibrium (Pulse)
Purchase from FFXIV Online Store
Unbreakable (Pulse)
Purchase from FFXIV Online Store
The Final Day (Orchestral Version)
Purchase from FFXIV Online Store
Close in the Distance (Orchestral Version)
Purchase from FFXIV Online Store
Your Answer (Orchestral Version)
Purchase from FFXIV Online Store
Endcaller (Orchestral Version)
Purchase from FFXIV Online Store
Shadowbringers (Orchestral Version)
Purchase from FFXIV Online Store
Advertisement · Continue Reading Below
New seed for flowerpots
| Item | Source |
| --- | --- |
| Chrysanthemum | Purchase seeds from Housing Merchants in residential areas, Apartment Merchants, or from Tanie in Gridania |
New mounts
| Item | Source |
| --- | --- |
| Island Garlic Jester | Purchase from Island Sanctuary vendor |
| Island Tomato King | Purchase from Island Sanctuary vendor |
| Island Mandragora Queen | Purchase from Island Sanctuary vendor |
| Traveling Supporter | Crystalline Conflict Series 4 reward |
| Megaloambystoma | Anabaseios: The Twelfth Circle (Savage) |
| Magicked Children's Bed | Purchase with Faux Leaves or a Khloe's Gold Certificate Of Commendation |
| Lynx of Fallen Shadow | Potential reward from The Voidcast Dais (Extreme) |
| Island Buffalo | Purchase from Island Sanctuary vendor |
New Triple Triad Cards
| Item | Source |
| --- | --- |
| Octomammoth Card | Potential reward from The Aetherfont dungeon |
| Proto-Carbuncle | Potential reward from Triple Triad Match with Ruissenaud at Labyrinthos X: 8.6 Y: 27.5 (requires completion of Pandaemonium raid dungeon series) |
| | Potential reward from Triple Triad Match with Ruissenaud at Labyrinthos X: 8.6 Y: 27.5 (requires completion of Pandaemonium raid dungeon series) |
| Golbez | Potential reward from The Voidcast Dais trial |
| | Potential reward Anabaseios: The Twelfth Circle raid dungeon |
| Item | Source |
| --- | --- |
| Chrysanthemum Corsages | Crafted by Alchemist |
| Plain Pajama Set | Crafted with material from Endwalker treasure map dungeons |
| Cactuar Pajama Set | Crafted with material from Endwalker treasure map dungeons |
| Chocobo Pajama Set | Crafted with material from Endwalker treasure map dungeons |
| Island Resort Set | Purchase from Island Sanctuary vendor |
New emotes
| Item | Source |
| --- | --- |
| Ballroom Etiquette - Heartfelt Sincerity: Hand to Heart | Crystalline Conflict Series 4 Reward |
New chocobo barding
| Item | Source |
| --- | --- |
| Voidcast Barding | Crafted with material from The Voidcast Dais (Extreme) |
| Felicitous Barding | Purchase from Island Sanctuary vendor |
New minions
Item
Source
Puffin
Potential reward from The Aetherfont dungeon
Mossasaurus
Ocean Fishing achievement reward
Posher Otter
Purchase from Island Sanctuary vendor
Rubellite Weapon
Crystalline Conflict Series 4 Reward

Advertisement · Continue Reading Below

Chimpanzee
Purchase with Faux Leaves
Exciting Dynamite
Potential reward from The Excitatron 6000 Treasure Map dungeon
Mikra Lyssa
Potential reward from The Shifting Gymnasion Agonon Treasure Map dungeon
Wind-up Athena
Potential reward from Anabaseios: The Twelfth Circle raid
Wind-up Barbaricca
Crafted with material from Storm's Crown (Extreme) trial
Goggle-eyed Dogu
Potential reward from subaquatic voyages
New fashion accessories
| Item | Source |
| --- | --- |
| Tactful Taskmaster Umbrella | Purchase from Island Sanctuary vendor |
New Framer's Kits
Item
Source
Season Six and Seven Framer's Kits
Crystalline Conflict Season Reward
Blue Mage Framer's Kit
Purchase from Maudlin Latool Ja in Ul'dah
Kojin Framer's Kit
Purchase from Kojin tribe vendor
Ananta Framer's Kit
Purchase from Ananta tribe vendor

Advertisement · Continue Reading Below

Namazu Framer's Kit
Purchase form Namazu tribe vendor
Adventurous Angling Framer's Kit
Ocean Fishing achievement
Big Fish Framer's Kit
Ocean Fishing achievement
Mahjong Mastery Framer's Kit
Mahjong achivement
Omega Protocol Framer's Kit
clear The Omega Protocol (Ultimate)
Aramitama Framer's Kit
Crystalline Conflict Series 4 Reward
Nigimitama Framer's Kit
Crystalline Conflict Series 4 Reward