This page lists the possible outcomes of using Paula's Pray command in battle.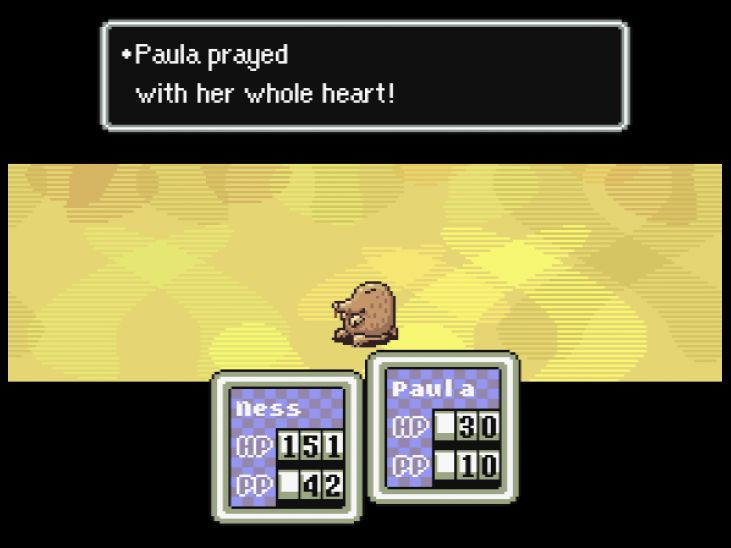 Contents

[]
About Paula's Pray Command
Paula's Pray command will cause one of 10 possible effects. There is a 62.5% chance that Pray will have a purely beneficial effect (healing, restoring PP, or attacking the enemy). The most common effect (which occurs about a third of the time) restores a small amount of HP to each ally. The effects of the Pray command are listed below.
List of Possible Pray Effects
Subtle light
31.25% chance of occuring
Heals each ally by a small amount
Warm light
12.5% chance of occuring
Heals each ally by a moderate amount
Mysterious light
6.25% chance of occuring
Restores a small amount of PP to each ally
Golden light
6.25% chance of occuring
Heals a single ally by a large amount
Dazzling light (damages enemy)
6.25% chance of occuring
Hits a single enemy with the equivalent of Rockin β, which does about 180 points of damage

Advertisement · Continue Reading Below

Dazzling light (hits everyone)
12.5% chance of occuring
Hits all enemies and allies with Flash α, which usually causes uncontrollable crying, but has a chance of causing target to feel strange
Rainbow-colored light
6.25% chance of occuring
Revives all dead allies and enemies to full HP
Mysterious aroma
6.25% chance of occuring
Inflicts sleep on all enemies and allies
Heaven-rending sound
6.25% chance of occuring
Makes all enemies and allies feel strange
Heavy air
6.25% chance of occuring
Hits all enemies and allies with Defense Down α, reducing defense by a small amount