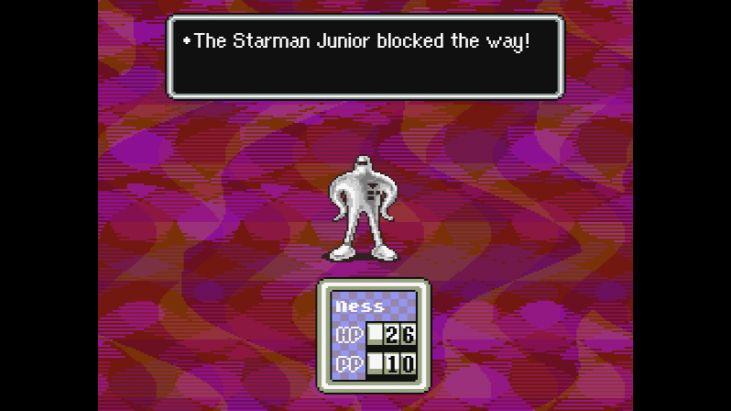 Starman Junior Strategy
Starman Jr. is not a battle that you can lose. Buzz Buzz will take care of putting a psychic shield around all of you, so you'll never be in danger of getting hit. Just have Ness attack away. King will attack automatically. Buzz Buzz will attack with his very powerful attacks, and therefore will probably deal the final blow.
Once Starman Jr. is defeated, he will disappear and you can continue on to Pokey and Picky's house. After that, your next task will be to deal with the Sharks.
Starman Junior's Stats
| | |
| --- | --- |
| HP: | 200 |
| PP: | 999 |
| Offense: | 11 |
| Defense: | 10 |
| Speed: | 1 |
| Guts: | 0 |
| Exp: | 16 |
| Money: | $20 |
| Type: | Normal |
| Starts With: | Normal |
| Where it appears: | Onett |
Starman Junior's Resistances
| | |
| --- | --- |
| PSI Fire: | 25% effective |
| PSI Freeze: | 25% effective |
| PSI Flash: | 0% effective |
| Paralysis: | 0% effective |
| Brainshock: | 50% effective |
| Sleep: | 10% effective |
| Mirror: | 50% effective |
Additional Starman Junior Attributes
| | |
| --- | --- |
| SMAAAASH! Probability | 5% |
| Run away probability | Can't run |
| Instant win occurs if weakest character's offense is greater than | 210 |
| Probability that attack will miss | 6.25% |