The following is the list of all endings in the game. I have put them in a recommended order, but you are free to do them in whatever order you wish.
Ending Diagram
The following image illustrates the dependencies required to get each ending. Beneath each character name is the path required to get that ending (read from left to right). The uppercase letters represent the doors to go through.
M = Magenta, C = Cyan, Y = Yellow, R = Red, G = Green, B = Blue
The lowercase letters represent whether to ally or betray.
a = ally, b = betray
More details are below the diagram.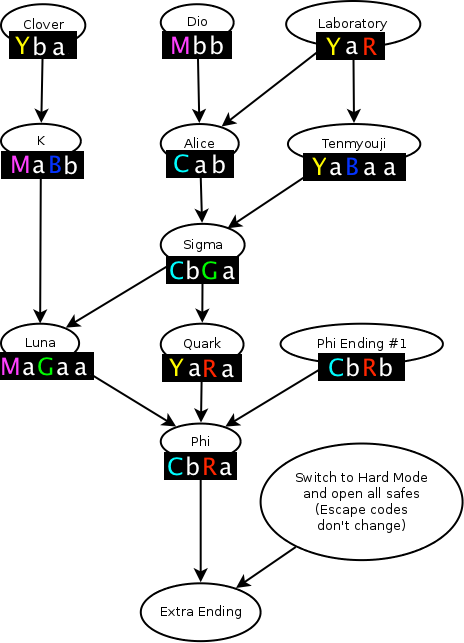 Clover Ending
Path: Yellow, Betray, Ally
Prerequisite: None
Unlocks: Lock 1
Laboratory
The laboratory unlocks some of the story locks so it is listed here.
Path: Yellow, Ally, Red
Unlocks: Lock 2, Lock 4
Dio Ending
Path: Magenta, Betray, Betray
Prerequisite: None
Unlocks: Lock 5, B0 Password
Tenmyouji Ending
Path: Yellow, Ally, Blue, Ally, Ally
Prerequisite: Laboratory (Yellow, Ally, Red)
Unlocks: Lock 6, B1 Password
Alice Ending
Path: Cyan, Ally, Betray
Prerequisites: Dio Ending (Lock 5), Laboratory (Yellow, Ally, Red)
Unlocks: Lock 7, Lock 9, B3 Password
Sigma Ending
Path: Cyan, Betray, "No" (Green), Ally
Prerequisites: Tenmyouji Ending (Lock 6), Alice Ending (Lock 7), Laboratory (Yellow, Ally, Red)
Unlocks: Lock 3, Lion Key 1, B2 Password
Quark Ending
Path: Yellow, Ally, Red, Ally
Prerequisites: Sigma Ending (Lock 3)
Unlocks: ID Card with Password
K Ending
Path: Magenta, Ally, Blue, Betray
Prerequisite: Clover Ending (Lock 1)
Unlocks: Lion Key 2
Luna Ending
Path: Magenta, Ally, Green, Ally, Ally
Prerequisites: (Lion Key 1) Sigma's Ending, (Lion Key 2) K's Ending
Unlocks: Lock 10
Phi Ending #1
Path: Cyan, Betray, "Yes" (Red), Betray
Prerequisite: None
Unlocks: Lock 8
Phi Ending #2
Path: Cyan, Betray, "Yes" (Red), Ally
Prerequisites:
(ID Card with Password) Quark's Ending
(Lock 8) Phi Ending #1 (Cyan, Betray, "Yes" (Red), Betray)
(Lock 10) Luna's Ending
Extra Ending
Path: Complete all puzzles on Hard mode. If you have solved them on Easy mode, just go back, switch to Hard mode, check your archives to find the escape password, and enter the escape password on the safe.
Prerequisite: Phi's Ending #2